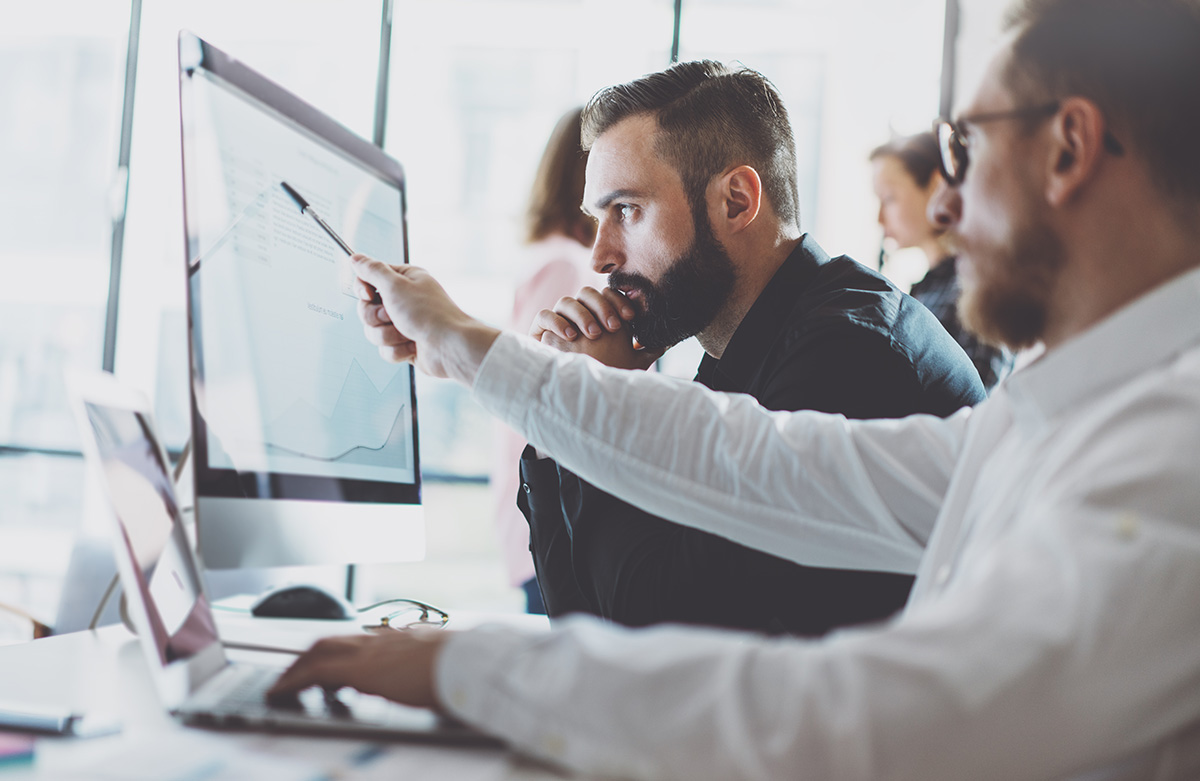 Building Operations at a Glance
The Building Operations Center is staffed 24×7, managing building assistance requests and following a calendar of seasonal activities.Under the Facilities Management Program, facilities benefit from real-time support for trouble issues and event scheduling, plus monitoring for safe operations with notification of critical failures. The Building Operations Center is a computer and communications technology hub, supporting connections to the "smart" building automation system installed at each site with automated upload and download of system data.
However, EFA strongly believes that program success requires real-time human interactions with facilities staff and contractors.
First Call Support Services
For any comfort or equipment issue, building custodians make the Building Operations Center their first call for assistance. Our Building Operations Center staff provides fast resolutions or at least temporary relief for most issues and this gives maintenance staff more time to focus on other work.
All calls and their resolutions are recorded at our online issue-tracking application iTrak. iTrak analytics can reveal trends and repeating issues and resolutions can be cross-referenced.
Notification of Critical Faults
Building systems are monitored during unoccupied freeze-hazard weather conditions to ensure proper equipment operations for safety. In addition, boiler plant startups are verified at early-morning startup on occupied days.
When a critical fault is detected, facilities staff are notified immediately. In-building call backs are required, and we provide troubleshooting assistance provided as required. Critical faults are followed through to resolution.
Boiler startup issues are resolved at a 98% success rate by facilities staff with EFA technical support and no outside contractor required.
Real-Time Protection by Live Knowledgeable Operators
EFA does not rely on technology to detect and resolve the critical issues. Alarm software may be buggy, power outages eliminate automatic checks, email cloud failures deter notifications.
Automated alert generation is reserved for analytic type diagnostics. For example: "No fan shutdown during unoccupied event periods."
Scheduling for Occupancy
Proper equipment scheduling is a major component in delivering comfortable environments and energy efficiency.
The Building Operations Center staff adjusts scheduling daily for after-hour events and for seasonal updates per the center's Activity Calendar. In response to severe weather or after a long shutdown, one-time on demand adjustments are made.
The building automation system definition and map documents facilitate management of school event requirements. We oversee all event scheduling requirements, day or night.
Facilities HVAC Operating Strategies
The fundamentals of the original Energy Efficiency Essentials Framework [eFramework], designed by EFA's founder, are still deployed for all sites managed under the Facilities Management Program.
Occupied events and building maintenance drive environmental requirements (temperature, ventilation, lighting, sound).
All HVAC equipment operating mode is OFF unless activated to fulfill an environmental requirement.
Automation control-logic activates/deactivates a call for HVAC operations to fulfill environmental requirements.
The eFramework is comprised of a system architecture, an array of facilities operating strategies and engineered sequence of operations for all controlled HVAC equipment types. With the advancement of automation "smart" technologies and industry standards, EFA engineers continue to develop techniques and sequences to operate new systems within the eFramework.
Our staff is charged with the implementation and integrity of the eFramework strategies and sequences across various building automation system manufacturer/models. In addition, monitoring and programming tasks are performed per the seasonal activity calendar. The eFramework and Activity Calendar facilitate achievement of the Facilities Management Program key objectives: occupant comfort, system reliability and energy efficiency.
BAS Installations – Getting Started
Program participation requires an installed building automation system that meets the following criteria: remote connection method, manufacturer development tools and minimal equipment control levels (boiler plant and major rooftop/air handler systems). Equipment is supplied and owned by the school district.
EFA will successfully manage any operating building automation system brand and legacy or current models to meet program goals. If integration or upgrade work is required, we will provide specifications. Limited improvements can be financed under the contract. Startup activities can be as short as 3 to 4 weeks.
Graphical user interface (GUI) upgrades are provided to support managed services functions and targeted use-requirements of custodians, maintenance mechanics and facilities managers.
Automated fault detection and diagnostic measures are developed on a per-site basis.